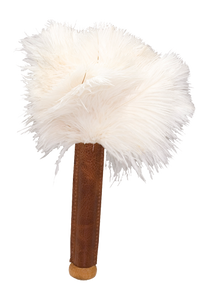 Skin Relaxer
Regular price
$42.00
$0.00
Unit price
per
For massage and stimulation. This small, handcrafted ostrich feather duster implement with leather cuff can be used as a duster, of course.
But it is also especially soothing for the skin …

Ecru leather handle white ostrich feathers Size: 21 cm

The ostrich feather is the queen of feather dusters. Because the individual feathers actually consist of a structure of numerous small feathers, they don't simply "wipe" dust away but bind it effectively. Ostrich feather dusters are especially light and thus ideal for dusting glass surfaces, fragile objects, or smaller pieces that tend to topple over easily. Connoisseurs appreciate their delicate softness as well as their thorough dusting power. Based on the season, the feathers of the ostriches may be larger or smaller, thicker or thinner, lighter or darker. We have no influence over these natural characteristics. For this reason, each feather duster will vary – however, this is what always makes it unique. To guarantee a consistent quality standard; however, the feathers used in binding each feather duster are always kept at the same total weight.
---