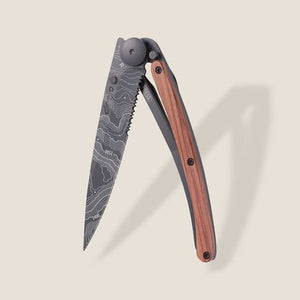 Serrated 37g Knife Coral wood / Topograph
Regular price
$95.00
$0.00
Unit price
per
A Deejo with a bite to accompany all your walks, the serrated blade will be particularly appreciated for difficult cutting tasks.
Ultra-light knife in Z40C13 stainless steel, black titanium finish. half serrated blade. one hand opening. Secure liner lock system. Belt clip Coral Wood Handle
SPECIFICATIONS
Material : Z40C13
Weight : 37 grams (1.30 oz)
Closed length : 11 cm (4.33")
Open length : 20,5 cm (7.87")
Blade length : 9,5 cm (3.74")
Thickness : 0,9 cm (0.35")
DETAILS
This Deejo knife is decorated with a handle plate in solid coral wood (or padauk). This species of wood has long been used in cutlery for its exquisite red/amber reflections (hence its name), robustness and excellent resistence to humidity. Here it wonderfully underscores the elegance of a Deejo knife.

Obtained by fixing black titanium onto a stainless steel base, this finish has a double advantage. First, it reinforces surface resistance to shocks and scratches, and second, it renders sublime the elegant lines of your knife by offering subtle matte black reflections. A discreet finish par excellence, the steel acquires a slight patina over the years to further enhance this beautiful piece of cutlery.
Equipped with a stud allowing the blade to be opened and closed with one hand, this Deejo knife also has the particular characteristic to see the first half of its blade micro-serrated. This robustly sharp edge makes difficult cutting easy—such as string, thick cardboard, hard vegetables or other difficult-to-cut foods (bread, tomatoes, etc.) —without the need for regular sharpening. It is particularly appreciated by handymen, hikers, hunters and fishermen.
CARE GUIDE
To slice meat, peel fruit or open a parcel, your Deejo knife cuts anywhere, anytime, and always with elegance.

Like any knife, your Deejo blade edge will wear with use. To maintain a perfect edge, it is advisable to sharpen the blade of your Deejo regularly. We use a Z40C13 stainless steel, hard enough to maintain a perfect edge over time and soft enough for you to re-sharpen your knife easily. Your Deejo knife can be sharpened using a whet stone, sharpening steel or sharpening set. Be careful not to damage the aesthetics of the blade during this operation.

SPECIFIC PRECAUTIONS FOR CLEANING: hand-wash your Deejo knife using a damp sponge, avoiding the abrasive side of the sponge. These Deejo knives are not dishwasher safe so risk irreparably damaging the knife's articulating system.
Click here to discover our advice on the best ways to maintain the blade edge of your Deejo
---