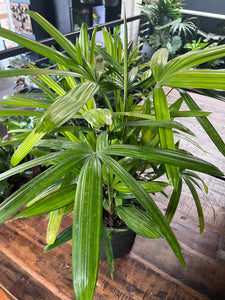 Rhapis Excelsa "Lady Palm"
Regular price
$59.00
$0.00
Unit price
per
Please note, we do not ship houseplants that are in pots larger than 6-inches. If you are interested in a larger sized plant, please contact us for other purchasing options.
Lady Palm, also known as Raphis Palm, is a popular indoor plant that is native to Southeast Asia. It is a slow-growing palm that features thin, cane-like stems and fan-shaped leaves that are dark green in color. Lady Palm is relatively easy to care for and prefers bright, indirect light, well-draining soil, and regular watering. It is an excellent choice for those who want to add a touch of tropical elegance to their indoor space, and it is also known for its air-purifying qualities, making it a great choice for those with allergies or respiratory issues.
---